This is Dubai resident Omar Jackson's inspiring story from humble beginnings; making and selling cakes for money in the playground to experiencing bullying at school, surviving a near death experience to becoming a millionaire and racing driver, all before the age of 28.  
Omar Jackson wants to inspire people to be the best they can be. He wants to make a positive impact and is using his extraordinary life experience to build a brand, OJ Lifestyle. 
"In a digital age we must not forget we are human. We thrive through experiences. OJ Lifestyle is a disruptive force of passion and drive; designed to entertain, thrill and energise. OJ Lifestyle is a brand created from my life story so far. I want to inspire and encourage people to find their passion, drive them towards action and create positive change in all aspects of life. This journey will teach you that it's possible to disrupt your personal life and your business with fun and fulfilment, creating impact and leaving you with lasting memories.
Your lifestyle starts with the decision to try..." – Omar Jackson
Born on 26th June 1991 in Slough, United Kingdom, Omar Jackson, lives his life with an inimitable mindset - the result of his extraordinary life, and here's how it unfolded.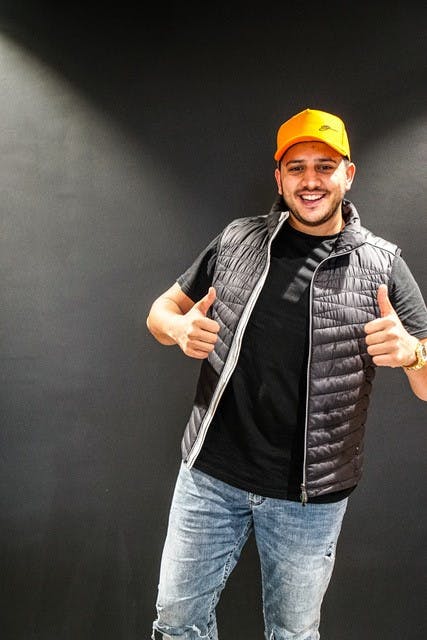 Omar Jackson - overview
It was his challenging younger years which Omar believes shaped him into becoming a strong minded, successful entrepreneur, determined to make a positive impact and give back in a meaningful way. He lives by the mantra of 'believe in yourself' and hopes to use this to inspire a younger generation. Ambitions were apparent early on when at eight years old Omar claimed he would one day own his own businesses. Fast forward to 2019, and at the age of 28, Jackson is truly living his dream. Omar became a cash millionaire by the age of 24, and partner of a private equity firm at 26. 
Giving Back
He is also at the forefront of opening other businesses, including the recent launch of his own brand which has social sustainability at its core and giving back to the community in equal measure. Omar is passionate about supporting youth, inspiring and developing talent through supporting educational initiatives and aiding those in need with his personal involvement in charities.
From building a school in Tanzania, renovating an orphanage in Sri Lanka, feeding workers during Ramadan, to inspiring children to work hard - giving back and developing other people's talent has always been in Omar's DNA. Inspiring those around him to look within themselves and develop their own passions is something incredibly rewarding for Omar. He also counts fellow youth positivity ambassadors, boxer Amir Khan and radio personality Kris Fade, as his friends.
An early drive
His business savvy was established from a young age. At 13 he started to sell cakes for extra money in school. Between cakes and becoming a millionaire, Omar went on an unbelievable journey. From the age of 14 Omar's talent for driving also came to life.  Living in the fast lane, literally, over the years he has driven with Ferrari, and will be racing for the brand's FF Corse team. 
It's these life lessons that truly made him the entrepreneur that he is today. His phrase "everybody in the world has a dream, but the winners wake up and work hard to achieve it" echoes his three-pillar formula for success - work hard, learn always and never quit.
Career
At 24, Omar had the title of cash millionaire made by successfully investing early into the vaping industry, working in corporate finance and running various businesses all before becoming a Partner at Berkeley Assets. It was his determination, passion and business savvy mindset that granted him his dream. His professional ambitions are far from over, as he takes the private equity industry by storm with his innovative approach. 
School life
Throughout his education, Jackson experienced academic challenges, and at times racism and bullying. Raised by a single mother, Omar says his upbringing was tough at times.  His mother did everything she could for her two sons and her own drive and ambition towards starting up a business demonstrated a 'do the impossible' mindset which was injected into Omar's drive.
He pursued a music scholarship despite having no music background, and was granted it on the 5th application, due to his persistence. Two years later, Omar was the head of the gospel choir performing for thousands. He sang for five years and ever since, music became a significant part of his life.
Omar's school years were challenging, and at one stage he was one of a handful of students from a mixed-race background, for which he faced bullying. Not a natural academic, Omar was not making the grades needed for university. After teachers told his mother he was unlikely to reach higher education, he made it his mission to prove them wrong. He worked hard and was awarded a place at UCL. 
A near death experience
It was a traumatising near death experience at 17 which had a huge impact on Omar's life. A severe allergy attack saw him rushed to the ER, and with a low chance of survival, Omar was put on a life support.  Luckily doctors were able to save him, but this incident gave Omar the realisation that something huge could happen at any moment, and he established a mindset to live every day to the fullest. 
Having completed a year of undergraduate studies at UCL, Omar decided to leave university and follow his passion of entrepreneurship, to start working and make something of himself. The ultimate goal became, and still is, to be financially secure and present for his family. 
Family life
Growing up without a father, and with only his mother supportive of his ambitions, it is Jackson's ambition to build a strong foundation for his own family in the future. He wants to be in the best possible situation to support and dedicate most of his time to a family, and his passions without any financial limitations. Omar wants to leave a legacy of success and inspiring future generations that they too can achieve the impossible.